Effective collaboration cannot happen without considering inclusivity. At Agenda for Change, we have realized that changing systems and influencing the water, sanitation, and hygiene (WASH) sector will require communicating differently. Below we share some of our favorite, everyday tools that we use to advance inclusive WASH communications.
By Alec Shannon, Deputy Coordinator at Agenda for Change
In my first blog post in this series, I shared five practical steps the Agenda for Change Secretariat has taken in the past year to make our communications and knowledge sharing more inclusive, including accommodations like translation, interpretation, and professional facilitation. In the second blog post, I shared a few examples of feedback we received after each of our virtual events last year and how we responded, plus our plans for the future. This brings us to now: the third and final part of our "Communicate to Collaborate" series, all about tools.
By tools I mean virtual services and marketplaces that we use every day to make our work more inclusive, nicer looking, better sounding, and more efficient. We are continuously working on ways of sharing knowledge across audiences with short ('snackable') and engaging ('sticky') content that can drive interest to Agenda for Change and member resources, events, job opportunities, and more, so we use a variety of tools to make our creative ideas a reality. Many of these tools are free; if they are not, I have noted below how much they cost.
Without further ado …
More inclusive
Language translation – DeepL
Basic service is free, with limitations on the number of characters and volume of translations offered. Paid plans start at 7 USD/month and include unlimited text translation plus the ability to translate 5 – 100 whole files (.doc, .ppt, .txt formats) per month.
I am surprised at how many people I work with who haven't heard of DeepL because it is truly an incredible translation service that far surpasses those offered by Google Translate or Microsoft Translator. The DeepL translation tool accurately matches the tone and grammar in translated statements extremely quickly and in over 12 languages, making it easy to translate e-mails, newsletters, and documents for people who prefer to read in another language than yours. Tip: add a link to your DeepL translation at the top of your emails, so your colleagues can quickly click and read what you've sent in their browser (see below).
An example of how to add a link to DeepL translation in emails. A portion of my email shows on top, in English – this text was pasted into DeepL's 'Translate from English' box (left side) and I selected 'Translate into Spanish' (right side). Then, I hit the 'Share translation' button in the bottom right. This creates a link that you can input into your original email. Once your colleague clicks on the link, DeepL will open in their browser and automatically translate your saved text. In this example, my email in English has been translated into Spanish
Live language interpretation – Zoom webinar and meeting
Standard Pro Meeting plan (2 users) + webinar add-on is 55 USD/month; prices vary depending on the plan.
Until 2020, most Agenda for Change events, meetings, and webinars were held only in English. Zoom interpretation has been invaluable in helping us highlight excellent speakers and invite participants from around the world who don't feel comfortable speaking or listening in English. Note that this feature is only available with Zoom Business, Education, or Enterprise plans, or the Pro account + Webinar add-on plan. Tip: if you're hosting a webinar with interpretation, remind attendees frequently at the beginning to pick a language channel (in all the languages you're providing interpretation for). Not everyone is familiar with this feature.
See my additional tips for Zoom meeting/webinar hosts using the interpretation feature here.
Nicer looking
High-resolution images – Unsplash | Runner up: Pixabay
Free!
One challenge in working across global settings is finding high-resolution images for our website and various products we produce (briefs, videos, reports). Ideal images for us are ones that highlight collaborative activities, such as meetings between our Members and government partners, not typical WASH pictures of smiling community members around a newly installed water pump. Since these types of images are not as common, I often turn to Unsplash for a large, high-quality, and easy-to-search selection of images. The only caveat is that you need to be creative with keywords, especially because the selection of images available does not always reflect the diversity we want to show (see below example). Tip: always give credit to the photographer and be sure to include a clear image description or caption underneath![1]
Results from a keyword search for "collaboration" on Unsplash on left and results for keywords "collaboration, together" on right. You often need to try multiple keywords to narrow down what you're looking for, especially for depicting diverse groups and image backgrounds.
Icons – Noun Project
Basic service is free, paid plans start at 3 USD/month; requires a free account to download icons.
Just like images, icons are critical to helping us make our graphic products more visual and engaging, and of the various sites available (e.g., Flaticon, iconmonstr) we tend to use Noun Project the most. There are thousands of icons that you can download for free while others require payment of fewer than 5 USD each. The icons you pay for are entirely editable, and the color can easily be changed to match your presentation or product. Tip: instead of relying on bullet points, try using a mixture of text, shapes, and icons to demonstrate your point in your next presentation.
A search for "sustainable" on Noun Project's site returns more than 2,500 icons which can be downloaded for free (with attribution) or purchased in an editable format for 5 USD or less.
Custom graphic design/animation – Upwork
Prices vary by project
The Agenda for Change Secretariat is a very small team (two full-time staff, one part time intern), so we often turn to creative experts to help us with custom projects that are outside our capabilities, including graphic design, illustration/animation, coding, and web development, among others. Using Upwork, I can connect with people across the world who have the skills I am looking for, and quickly and easily view their profiles and portfolios, ask questions, etc. In a little over a year, we have exponentially grown our network of talented consultants for various projects and they have created some amazing products. Tip: offer two or three finalists quick, paid test projects for your assignment before you commit. This will quickly help you to find the best fit.
Example Upwork project: I searched for and hired an animator via Upwork to help us create a video to demonstrate achievements in the first 5 years of the collaboration. From finding the right person to the result, it took 9 days and cost 4500 USD. Now we have a  product (in three languages!) that is more engaging and inclusive than our past English-only PDFs and is available indefinitely on our YouTube channel, and we know a skilled, quick animator who is familiar with our work.
Stills from our Five Years in Review video from 2020, an Upwork project. The video is available indefinitely on our YouTube channel in English, French, and Spanish.
Better sounding
Audio editing – Audacity
Free
As we begin to experiment with methods of knowledge sharing like podcasts, I have been introduced to the free, open-source audio editing program Audacity. This program makes it easy to import audio files (e.g., from a Zoom or Skype recording), edit them directly, and export again. It requires little time to learn as the interface is quite intuitive. Tip: those who need extra help can easily find advice through Audacity's various mailing lists, or with a quick search for step-by-step YouTube tutorials.
More efficient
Zoom recordings – Zoom webinar and meeting
Standard Pro Meeting plan (2 users) + webinar add-on is 55 USD/month; prices vary depending on the plan. Note that this feature isn't available on free accounts.
Since many of our meetings are held via Zoom, we have become very accustomed to recording meetings. This is an especially helpful feature for facilitators, who can now spend more time fully engaging with the audience without having to take notes. When recording a meeting, we advise you to do it to the cloud (aka Zoom's server), after which you'll be able to view it under the "Recordings" tab in your account. You can also share a recording with ease or download the audio for transcription (see below) or editing. Tip: It's polite to let your participants know how you will be using the recording at the beginning of the meeting – if it's just for notes and not for attribution (Chatham House rules) or if the recording will be made available publicly.
Speech to text transcription – Temi
0.25 USD per minute
Temi is a helpful tool for quick transcription projects, which I mostly use for Zoom recordings. This is a computer-generated transcript, and it only recognizes English, so I only recommend Temi for quick, imperfect transcription that you have some time to edit. Simply upload an mp4 file and Temi will automatically calculate the cost and turnaround time; once you begin, transcription takes approximately 5 – 10 minutes, depending on the size of your file. Temi highlights questionable words (often acronyms or technical terms), and you can also remove filler words (um, uh) and edit the transcript directly in Temi before downloading it. Tip: if you set up an account with Temi, you can paste video links from popular services like YouTube or Facebook for easy transcription.
An example of how we have used Temi: the template on the left is the base for an interview blog and on the right is a finished product. I recorded this interview in Zoom, uploaded it to Temi, and edited it according to the template.
Bringing it all together
In this series, we have shared many parts of the Agenda for Change journey towards inclusive communications through offering practical steps, sharing feedback, tips, and now our favorite tools. Together, these component parts create quite a nice picture indeed, and of course, we are nowhere near done improving – it is a continuous process for us.
We acknowledge that there are many organizations that are already taking or have taken, steps like ours. We are very grateful for the inspiration and guidance, which has helped us along the way.
[1] You can read more about best practices and see examples of image descriptions in our second blog.
—
Have you enjoyed this series? Have more ideas for us? Let us know!
We would love to connect with you to offer and/or receive advice on how to be more inclusive and interesting in our communications. If you have a question, recommendation, or want to share your own tools, please contact Alec Shannon.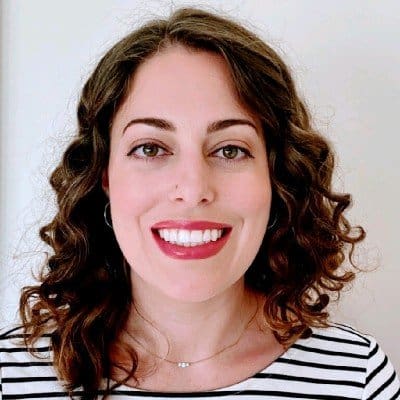 Alec Shannon (she/her) is Deputy Coordinator at Agenda for Change. She has been working in the WASH sector for more than 7 years and has provided programmatic guidance, technical assistance, and communications support to WASH, menstrual health, and community-led total sanitation projects throughout her career. She is passionate about shaking things up in development and finding new, creative, and inclusive ways of working.