Our Mission
By 2030, we want to ensure that strong water, sanitation, and hygiene (WASH) systems are in place everywhere, and that future populations have access to WASH services forever.
Who we are
Established in May 2015, Agenda for Change is a collaboration of like-minded organizations ("Members") that have adopted a set of common principles and approaches. We work collectively to advocate for, and support national and local governments in, strengthening the water, sanitation, and hygiene (WASH) systems required to deliver universal, sustained access as outlined under Sustainable Development Goal 6.
Our main activities include supporting, amplifying, and promoting WASH systems strengthening across our membership.

We support Member's collaborative systems strengthening efforts across various countries;

We amplify evidence of Member's WASH systems strengthening activities at national and local levels;

We promote learning amongst Members, through lesson sharing across the collaboration, and with external systems actors.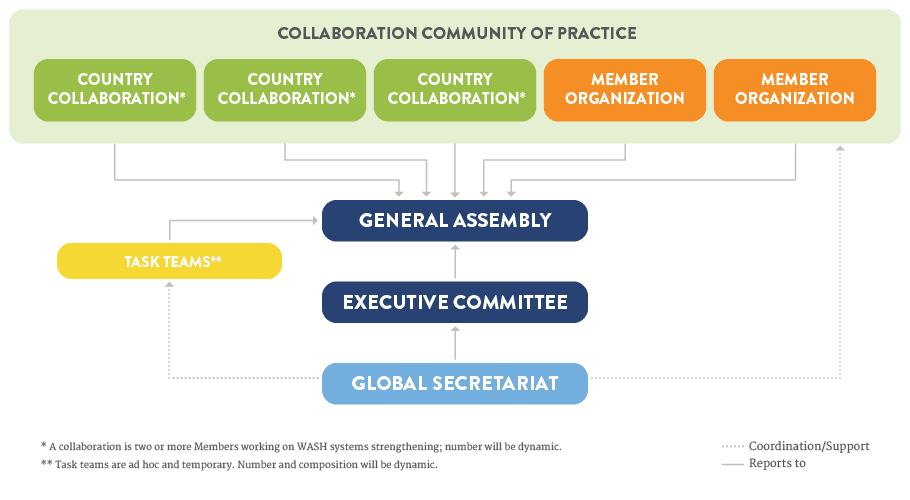 The Global Hub
Agenda for Change has a Global Hub comprising a General Assembly, Executive Committee, Secretariat, and ad hoc Working Groups (see Figure). These constituent parts govern, operate, and provide support for the collaboration.
The Global Secretariat consists of a Global Coordinator and a Deputy Coordinator, both staff hired by the hosting member, IRC. All constituent parts are comprised of representatives from across the Agenda for Change membership, both at a global level ('Member organizations') and at the country level ('Country collaborations').
Our Approach
By working together,
we can achieve a greater impact.
Our members promote harmonized district-level work to ensure everyone in the districts, municipalities, or cities where they work has adequate water, sanitation, and hygiene services. They also ensure that national-level systems are in place to enable all districts to reach everyone, and that systems are in place forever.
Membership
Members of Agenda for Change are expected to affirm their commitment to our Joint Principles and alignment with the Sanitation and Water for All Collaborative Behaviors.
Member organizations also agree to work at country level with mutually reinforcing activities; use a collective voice and common messaging at all levels; and share knowledge and learning across cities, districts, countries, organizations, and sectors.
Joint Principles
The agreement of a Sustainable Development Goal (SDG) target of universal access to water, sanitation and hygiene by 2030 requires a fundamental change in the way we work.
Delivering positive change in sector performance necessitates a system-wide approach that tackles all dimensions—policy, financing, institutions and other key building blocks—of the water, sanitation and hygiene (WASH) sector as whole. This will require a reformed agenda, based on a sound understanding of the political economy, at three levels of decision-making: global, national, and local.
Recognizing that we will achieve more by working together, we have agreed that the principles below will guide our approach to ensure permanent water and sanitation services for all.